Whew, another zany month is over at the RB40 household. We closed on our rental home and that kept us very busy. I found out we had to replace all the smoke and CO alarms the day before it closed. Of course, I didn't have a ladder that would reach the 20 ft tall vaulted ceiling in the master bedroom because we sold all our stuff when we moved 7 years ago. Luckily, our sweetheart of a realtor went beyond the call of duty to purchase a ladder and let us borrow it. If anyone is looking for a realtor in Portland, I would highly recommend Andi.
It's July, summer finally arrived in Portland, and we're gearing up to go camping this weekend! After a few wet experiences, we decided to put camping off until after Independence Day and I think we made the right decision this year. There were a few downpours last week and I was really glad we weren't sleeping in a tent. Anyway, I already did a Midyear review of my 2014 New Year resolutions in detail recently, so I'll just put a short recap this month.
2014 New Year Goals
Invest $50,000 in tax advantaged accounts
We saved $34,582 so far and we're at about 70% for 2014.
Generate $10,000 in passive income – NA.
We sold our rental so that messes up our passive income plan. We'll start over next year.
Get Leaner – currently 19%
My goal is 17% and it's not going well.
Travel – Done!
We had a big family trip to Hawaii and it was a blast.
Blog Goal – Done!
We surpassed my goal of 120,000 pageviews/month in March and continue to improve.
Net Worth (+4.1% YTD, +2.3% MTM)
Our net worth had a nice increase in June due to the stock market and sale of the rentals. I undervalued the rentals a bit in my net worth sheet so now I have a more accurate picture of our net worth. The stock market also did quite well so that's helpful.
For the year, I'd like to see 8-10% increase in our net worth, but I don't think that's going to happen. We'll see how the rest of 2014 goes.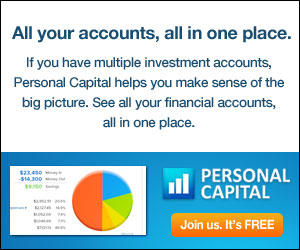 If you need help keeping track of your finances, try using Personal Capital to manage your cash flow and net worth. It's a free site that will help you get a handle on your finance. Personal Capital is geared for investors and has many great investment tools as well. See my review of Personal Capital and how they helped me reduce what I'm paying in investment fees.
Cash Flow
Take Home Income (target > $5,000)
We had a nice month on the income side. The rentals are closing out and I think this will be it on the rental income front for a while.
Mrs. RB40's Paychecks: She got a few FSA refunds so that's nice.
Online income: My take home was a bit low this month at $402. I guess the summer slowdown is here. That's excluding tax withholding, retirement saving, and 529 saving. I will break down the online income in our monthly newsletter so if you're curious, sign up with our email list.
Dividend and interest: $1,388. I love the last month of the quarter! Our dividend portfolio paid out quite well in June.
P2P lending: Not good at -$4. Our current ROI declined from 7.7% to 7.6%. I'm starting to think about how to exit this investment before the economy heads south. See how we did with Peer to Peer Lending in 2013.
Rentals: The rental home is closed and all the payments should be wrapped up in June. This category will take a leave of absence until we find a new rental property.
Misc income: $58. Not exactly sure where this came from.
Expense (target < $4,500)
All right! Our expense is under control this month. April and May were rough because we took a vacation to Hawaii.
This month I used Personal Capital to track our expense and it worked pretty well except the housing expense. We pay property taxes once a year, but I want to show it on our monthly housing budget so I manually add that in.
Housing: $2,163. Mortgage, HOA, and 1/12 property tax.
Allowance: $400. We get $100/week cash to spend on whatever we want.
Child/Dependent: $360. This is for preschool and summer day camps.
Healthcare/Medical: $358. My mom had some dental care expense so it's more than usual this month.
Groceries: $331.June was a pretty good month for groceries. Here is a detailed look at our grocery spending.
Insurance: $191. Auto, home, and life insurance.
Utilities: $51. Our electric bill seems to be creeping up. We haven't used any AC, so I'm not sure why it's this high.
Entertainment: $46. This is my gym membership and childcare at the gym.
Gasoline: $36. We only filled up once last month. Nice!
Surplus (+$49,440 YTD)
The surplus is really skewed due to the profit from the 4-plex sale.
Our saving this month is +$2,725.
Piggy Bank 2014
Travel fund: $0. We're done traveling long distance this year.
Roth IRA fund: $0. We maxed out both our Roth IRA for the year.
Slush Fund:  $36,520. We'll probably use most of this as a down payment on another investment property.
How about you? Did you have a good month? Have a great Independence Day weekend!!!
The following two tabs change content below.
Joe started
Retire by 40
in 2010 to figure out how to retire early. He spent 16 years working in computer design and enjoyed the technical work immensely. However, he hated the corporate BS. He left his engineering career behind to become a stay-at-home dad/blogger at 38. At Retire by 40, Joe focuses on financial independence, early retirement, investing, saving, and passive income.
For 2018, Joe plans to diversify his passive income by investing in US heartland real estate through
RealtyShares
. He has 3 rental units in Portland and he believes the local market is getting overpriced.
Joe highly recommends
Personal Capital
for DIY investors. He logs on to Personal Capital almost daily to check his cash flow and net worth. They have many useful tools that will help every investor analyze their portfolio and plan for retirement.
Latest posts by retirebyforty (see all)
Get update via email:
Sign up to receive new articles via email
We hate spam just as much as you