Can you believe that 2014 is half over? As usual, it's amazing how fast time flies. That's the main reason why I want to retire early. Life is really short, so why spend every weekday doing something I don't like. Not that I'm just goofing off all day now that I'm semi-retired. This stay at home dad/blogger gig keeps me busier than I ever imagined. However, I still made some New Year resolutions for 2014 because we all need those long term goals to keep life interesting. Midyear is the perfect time to see how we're doing on those goals and figure out how to bring them home in the 2nd half of the year.
Financial Goals
Invest $50,000 in tax advantaged accounts
I love our 401k and Roth IRA! These accounts are great retirement saving tools and contributing to them will help lessen our tax burden. I still contribute to my solo 401k even though I quit my full time job and I'll continue to do so as long as I can. The plan is to delay withdrawing from these accounts until we're 60, so we're still in the accumulating phase right now.
Midyear progress: $34,582 so far.
Mrs. RB40 401k: $12,482
My solo 401k: $8,700
RB40 Jr's 529: $2,400
Two Roth IRAs: $11,000
That's almost 70% complete and we are on pace to finish early this year. There shouldn't be any problem with this one.
*I'm going to give Personal Capital a plug here. I needed to check how much we've contributed this year and Personal Capital made it really easy. Check them out if you haven't yet.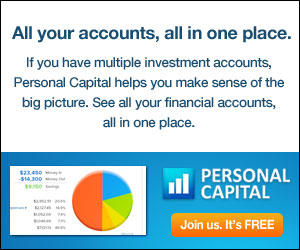 Generate $12,000 in passive income
We had about $10,000 in passive income from various sources last year. My goal was to increase that by about 20% in 2014. Unfortunately, I'll have to redefine this goal or just start over in 2015. We sold 2 of our rentals, so that will screw up our accounting. We made some profit on the sales, but I'm not sure if we should count that as part of our passive income. Here are the numbers so far.
Dividend portfolio: $3,846
Interest: about $85
P2P lending: $245
Rentals:$38,972. This is including the profit from the 4 plex sale. The proceeds from the rental home are currently in an escrow account for the 1031 exchange.
I think I'll just cross this one off the list for 2014 and start over in 2015.
Fitness and Leisure
Get Leaner
I'm trying to get back in shape after 18 months away from the gym and reduce my body fat percentage from 20% down to 17%. I'm really having a hard time with this goal. I bruised my ribs in May, so I couldn't do much for almost a month. Now that the weather is nicer, we're going camping, having playdates, going to free concerts, and other activities. It's more difficult to get to the gym than I thought. We are also not very good with our diet. We enjoy good food and eat pretty much whatever we want. (Mrs. RB40: What's the problem? Everything is made from scratch!  except for the giant tub of ice cream…) Our diet is generally healthy, but it's not strict. I'll keep at it, but 17% might be out of reach.
Currently 19%
Travel – Done!
Now that RB40 Jr. is 3 years old, we can travel a bit farther. We took a family trip to Hawaii at the end of April and we had a blast. My mom and my brothers also went with us so it was great to spend some family time together. Jr. did very well on the flights and we're getting more ambitious. Next year, I'm planning to visit Thailand for 2 months and see if it's a viable retirement destination. I think it'd be great to live there part of the year. Traveling is more fun when you're young and I'm glad we're getting back to it.
Bucket List
For 2014, I want to cross 3 things off of my Christmas Bucket List. Okay, I cheated a bit because I had that Hawaii trip in mind when I made the list.
Here are the three things crossed off the list.
Take my mom on a family vacation. She hasn't traveled much because she worked so hard when we were growing up. It was great to be able to take her to Hawaii.
Helicopter ride near an active Volcano. We wanted to see molten lava! We took a helicopter tour on the Big Island and saw some lava flow. Mrs. RB40 loved the helicopter ride and wants to get a license now….
Swim with dolphins. We lucked out one day when we went snorkeling. There was a pod of dolphins nearby and we swam in the same vicinity. We didn't get right up to them, though. They were probably about 30 yards out.
Next year will be much more difficult since I already got some easy ones out of the way. Maybe I'll just try to cross one thing off the bucket list in 2015.
Blog Goal
Here are my blog goals this year.
Hit 120,000 pageviews. We surpassed this in March and continue to improve.
New theme. The blog is starting to look dated and I need to give it a face lift. I haven't had time to do this and I will probably have to hire this task out.
Add a forum. I think this would be a valuable addition to Retire by 40. Readers can interact with each other more and it will increase our online footprint. I also haven't had time to do this and I'm probably going to give up on it. There are quite a few early retirement forums out there already.
Stretch goal – add a new blog… I'd like to start a new blog and hire everything out. If it works out, it will be a small source of revenue without a lot of work. I haven't been able to start this one either…
We'll call it 25% done. I'm not very hopeful for the rest of the goals. Now that I look at it more, it's a lot of work which I don't have time for right now.
Midyear Review
Whew, it seems like I'm doing okay so far. The financial goals are pretty easy for us because we already have good financial habits. The fitness goal is a lot tougher for me! I guess that's why there is such a huge weight loss industry in the US. It's a struggle to eat healthy and exercise consistently.
Did you make some New Year resolutions? How are you doing so far?
The following two tabs change content below.
Joe started
Retire by 40
in 2010 to figure out how to retire early. He spent 16 years working in computer design and enjoyed the technical work immensely. However, he hated the corporate BS. He left his engineering career behind to become a stay-at-home dad/blogger at 38. At Retire by 40, Joe focuses on financial independence, early retirement, investing, saving, and passive income.
For 2018, Joe plans to diversify his passive income by investing in US heartland real estate through
RealtyShares
. He has 3 rental units in Portland and he believes the local market is getting overpriced.
Joe highly recommends
Personal Capital
for DIY investors. He logs on to Personal Capital almost daily to check his cash flow and net worth. They have many useful tools that will help every investor analyze their portfolio and plan for retirement.
Latest posts by retirebyforty (see all)
Get update via email:
Sign up to receive new articles via email
We hate spam just as much as you