I hope everyone had a great Thanksgiving! 
We didn't do much at all this year. We read, watched Spiderman cartoon, listened to some music, played with Lego, overate, and just relaxed at home. I cooked the Turkey and Mrs. RB40 made a bunch of side dishes. The mash potato was really good this year. It was all airy and fluffy, yummm… The condo is warm and smells like Thanksgiving. I love it!
I'm going to skip Black Friday this year. I'm getting a few things from Amazon and that's about it. Mrs. RB40 is planning to go to Cost Plus and Macy tomorrow. I'm going to sleep in with the kiddo and perhaps go to the parade. We are having a relaxed Thanksgiving this year.
What I'm Thankful for
I'm most thankful for another year that I can enjoy being a stay at home dad/blogger. Life is great for the most part. Of course, there are some problems because living with a rambunctious 3 year old can wear thin at times. By 8 pm last night, I had about enough of his antics and had to hand him off to his mom. He just wanted to play non-stop and us 40 year old folks can't keep up with him. Anyway, I hope you enjoyed Thanksgiving as much as we did. Overeating and spending time with family is what it's all about.
Have a great Thanksgiving Weekend! Do you have any plan for Black Friday?
Oh, I just got an email that Personal Capital is having a $50,000 Black Friday promotion. If you sign up and link one account, you'll be eligible to receive a $20 (first 1,000) or $10 (following 3,000) Amazon gift card. You can sign up through the banner below if you're interested.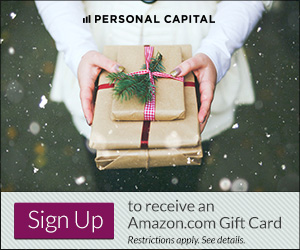 { 5 comments }